Newsletter / Blog
2016-01-11
January 2016 Newsletter - Kyalami Ridge Crèche and Preschool
January 2016 Newsletter
Happy New Year to all, we hope 2016 will be a prosperous and love filled year.
We welcome back our parents and children from 2015 and welcome in our new children and parents.
It has been a long holiday and the children may be out of their normal school routine. So please bear with us as it will take a few weeks to get all in routine and settled again.
Some of the children are going to cry and be upset however, the teachers will be doing their very best to make the transition as smoothly as possible.
When the children arrive at school on their first day we will guide them to their new class.
GENERAL INFORMATION
Kyalami Ridge School Terms
Although we run according to a 3 term calendar, our dates are slightly different to the private schools in the area, as our terms always start on a Monday. We do not close during the holiday but run a relaxed holiday programme to give the children and teachers a well-earned rest during this time
The school remains open during the school holidays and the only time we will be closed will be:
For public holidays and for 3 Days in March 22th ,23th ,24th; Friday 17th June; Monday 8th August
Term 1
Monday 11 January - Friday 8 April
Term 2
Monday 2 May - Friday 5 August
Term 3
Monday 5 September - Thursday 15 December
School Hours are from 7:00am to 5:30pm
Please adhere to your allocated times as anyone exceeding their pick-up time will be charged a late fee. The children must be at school by 8:30 as this is when classes begin. It is disruptive to the rest of the class when children arrive late.
Morning

Half-day

Afternoon

Up to 12:30pm (excluding lunch)

including 10:00 am snack (lunch by arrangement)

Up to 2:00 pm (includes lunch & rest)

including 10:00 am snack

Up to 5:30pm (including lunch and sleep)

including 10:00 am snack & 3pm snack
Updating our files
If your cell number, address, email or any other information has changed PLEASE inform the school, this is vital to keeping our records up to date and keeping you in touch. If you are having problems with receiving our monthly emails please also inform us.
ITEMS TO BRING TO SCHOOL
Hat, sunscreen and water bottle
The days are very long and hot so please put sunscreen on your child before school and we will re-apply later on during the day, also please ensure your child brings a hat and water bottle to school daily.
Face cloth and small towel
Please supply your child with a face cloth and small towel clearly marked with his/her name.
ACTIVITIES PLANNED FOR THE MONTH/YEAR
A monthly newsletter will be sent out at the beginning of each month informing parents of the upcoming events. A calendar will be attached to the newsletter each month to inform and remind parents of any events planned. You may also view the calendar online
Hearing screening
(A date is yet to be confirmed) As soon as we get confirmation from our Audiologist we will inform the parents when the screening will take place.
We will use the class fund to pay for this screening, which will be R80 per child.
Speech screening
Rone Plaut our in house speech therapist will be screening the children's speech development on the Thursday 28 January. The class fund will be used to cover the cost which is R60.
Meet and Greet the Teachers
This is an opportunity for the parents to informally meet your child's teacher. The idea is to become familiar with the Class Teacher and to discuss concerns, plans and expectations of your child for the upcoming year.
On Monday 25 January teachers Mariska and Carmen
On Tuesday 26 January teachers Lorna and Lee
On Wednesday 27 January Teacher Barbara
EXTRACURRICULAR ACTIVITIES
The extra murals set for this year are:
Kidi Talk
Ballet
Swimming
Little Brains Computers
Soccer Starz
Cricket Hero
Karate
Clamber Club
Science Club for 5 years +
Tangonastix (School sponsors all children)
Drumming (school sponsors for 4 years to Grade R)
Please refer to the calendar for dates and times of the respective demonstrations.
You many receive more information and application forms from the office.
Please note that all payments must be done to the extra-curricular activities Instructors directly. Kyalami Ridge are not responsible for their account payments.
Thought of the Month
As you are your child's guide to becoming an adult, let your child be your guide to staying young at heart.
Barbara and Team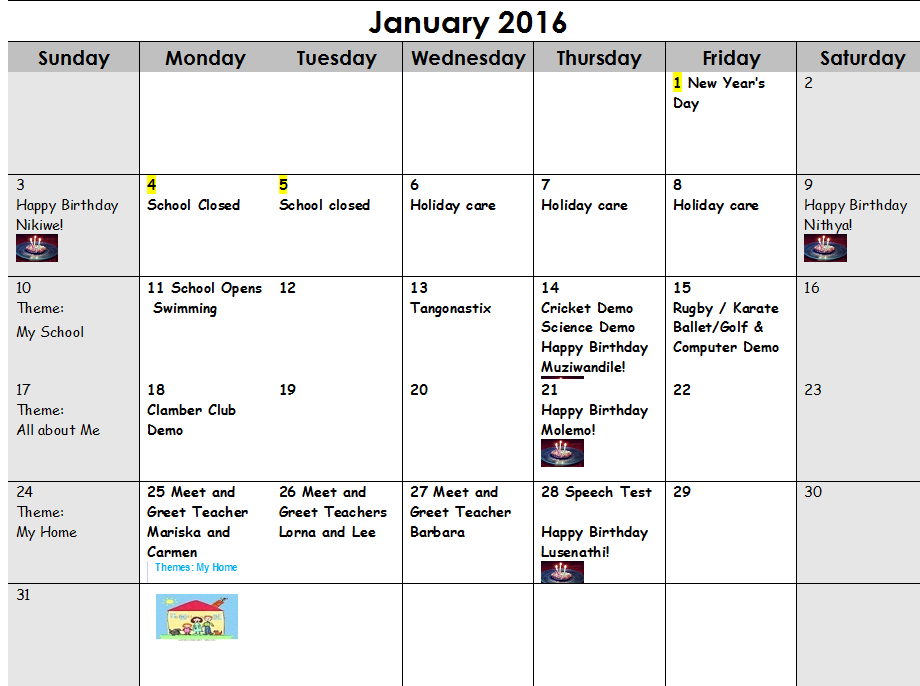 REG. No. 1999/005206/07
KYALAMI RIDGE CRECHE & PRESCHOOL (PTY) LTD
37 KAREE LANE (OFF CEDAR RD), KYALAMI A.H
Tel No: 011 702 3045 Cell: 082 578 8292