Newsletter / Blog
2016-10-04
October 2016 Newsletter - Kyalami Ridge Creche and Preschool
October 2016 Newsletter
This month's newsletter is an important one as it holds important information with regards to the Annual Concert which each parent must be aware off.
Heritage Day Celebrations (Friday 23 September)
Thank you for the effort in bringing all the lovely traditional eats to school on 23 September, the children had a feast! They looked so grand in their traditional outfits. We are very blessed with our rich diversity of culture in South Africa.
New Babies
Congratulations to the Rambakus family on the birth of their son and brother Zayden to little Ariana born on 7 September.
Congratulations to the Naidoo family on the birth of their son and brother to little Sonakshi born on the 26 September.
All at Kyalami Ridge Preschool wish both families joy and happiness with their new additions to their families.
Note of Sadness
Our heartfelt condolences goes out to Natasha Prinsloo and family on the untimely passing of Garth Prinsloo, daddy to little Morgan. Our prayers and thoughts are with you during this sad time.
ANNUAL CONCERT "MAKING MEMORIES"
Our Annual School Concert will be held on Saturday 15 October at Cluny Farm at 9:00am.
ON THE DAY OF THE CONCERT
We would like the children to be at Cluny Farm no later than 8:45am so we can settle them to start promptly at 9:00am.
A T-shirt will be given to each child a few days before the concert. The children must come dressed in their T-shirt. Once you get to Cluny Farm please hand your child over to the teachers and leave quickly to alleviate and avoid tears, and help yourself to refreshments which are available in the foyer.
VIDEO RECORDING
We have organized for the concert to be professionally video recorded on the day. This is to alleviate the problem we have of every one holding up their cell phones, tablets etc. etc. and blocking the view of the people behind them, which can become irritating. This will also enable you to be fully present with the show. The video's will be available to purchase soon after the concert. You may place your order in the office after the concert the cost per video is R170,00. We would like to ask that phones are not used during the show.
DIRECTIONS TO CLUNY FARM
From the school at Cedar road turn left onto Main road. At the next set of robots turn Right into Maple road proceed down Maple road approximately 3,5 km until you get to a T-Junction. Turn right on to Rose Road and proceed about 1,6km long until you get to Cluny Farm on your left hand side.
Or Google Maps: Cluny farm Rose Road or a map is available in the office.
CONCERT REHERSAL
CONCERT REHEARSAL ON 11 AND 12 OCTOBER AT CLUNY FARM (FROM 9:00am - 11:00am)
We would like to take the children to Cluny Farm for a stage rehearsal.
Tuesday 11 October for teacher Lee and teacher Mariska.
Wednesday 12 October for teacher Carman and teacher Lorna.
We appeal to parents to volunteer to help us transport some children to Cluny Farm.
TLC, one of our reputable transport companies will also assist in transporting the children to and from Cluny farm (TLC Transport Company has assisted Kyalami Ridge every year)
AN INDEMNITY FORM WILL BE GIVEN TO EACH CHILD GIVING PERMISSION TO LEAVE THE PREMISES AND TO BE TRANSPORTED TO CLUNY FARM PLEASE COMPLETE AND RETURN TO THE CLASS TEACHER BEFORE MONDAY 10 OCTOBER.
THE WONDERERS CLASS (Teacher Barbara's babies/toddlers)
This year we have decided to do something different for our youngest group of children as putting them on a stage in front of so many people is so stressful and not fair on them. On Saturday 5 November at Kyalami Ridge Preschool, we will be having a morning tea, a guest speaker and the little ones will be showing off what they can do. An invitation will be sent out to these parents.
Thought for the month
"Today's little moments become tomorrow's precious memories."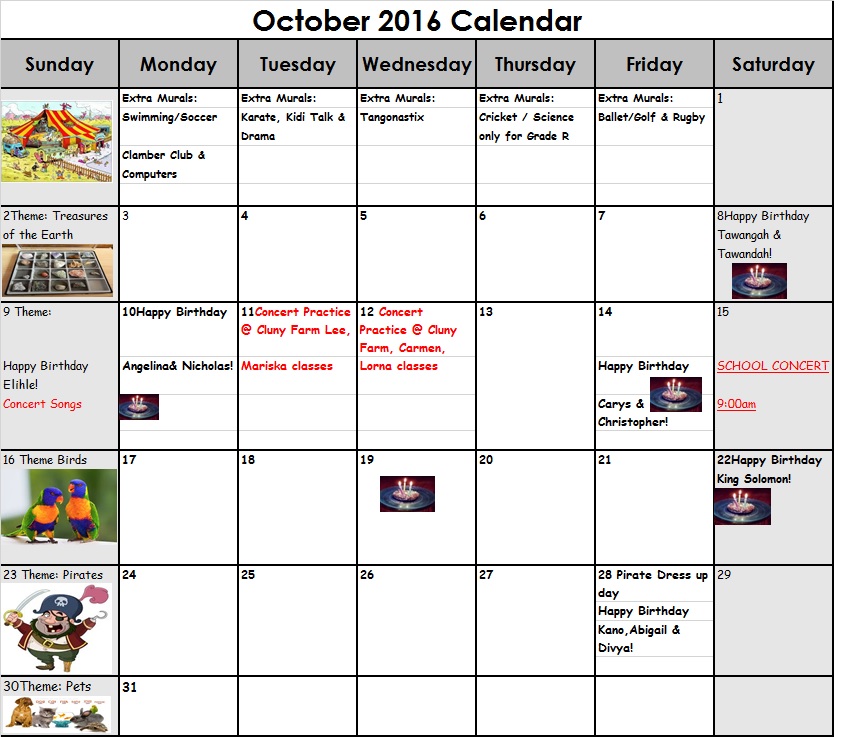 BARBARA AND TEAM