Newsletter / Blog
2017-01-14
January 2017 Newsletter - KRCP
January 2017 Newsletter
Dear Parents
Happy New Year!
I hope 2017 will be a prosperous year for all.
We welcome back all our existing children. A warm welcome to the new children and parents. So far many of the children have returned and are settling well. Thank you to the caring and competent teachers.
GENERAL INFORMATION FOR 2017
Kyalami Ridge School Terms and Holidays
The school follows a 3 term calendar (Independent Schools)
Please note that we do not close for the Midterm breaks and the only school holidays that we will be closing for are highlighted below:
Term 1
18 January – Wednesday 12 April
Term 2
Wednesday 3 May – Friday 4 August
Term 3
Tuesday 5 September - Thursday 7 December
PUBLIC HOLIDAYS AND SCHOOL DAYS THAT THE SCHOOL WILL BE CLOSED
| | |
| --- | --- |
| School Opens | 9 January |
| School Closed | 20 March (Monday) |
| Public Holiday | 21 March (Tuesday) Human Rights Day |
| Public Holiday | 14,17 April (Friday/Monday) Easter |
| School Closed | 24.25.26.29 April |
| Public Holiday | 27 April (Thursday) Freedom Day |
| Public Holiday | 1 May (Monday) Workers day |
| Pubic Holiday | 16 June (Friday) Youth day |
| Public Holiday | 9 August (Wednesday) Women's Day |
| School Closed | 7,8,10,11 August |
| Sunday | 24 September Heritage Day |
| Public Holiday | 25 September (Monday) |
| School Closes | 15 December (Friday) |
SCHOOL FEES FOR 2017

NURSERY

FEE

12:30pm

2:00pm

5:30pm

MONTHLY X12

R3 650

R3 990

R4 390

TERMLY X3

R14 170

R15 490

R17 030

YEARLY

R40 810

R44 560

R49 000

PRE-SCHOOL

FEE

12:30pm

(No Lunch)

2:00pm

5:30pm

MONTHLY

R3 520

R3 870

R4 260

TERMLY

R13 660

R15 070

R16 520

YEARLY

R39 280

R43 200

R47 520
Class Fund: R400, 00 per term. The class fund is used for all the children's entertainment e.g. Puppet shows, educational shows and hearing screening etc., as well as costs involved with the fun days, sports day and special projects the children may engage in.
THE TERMLY AND YEARLY FEES ARE DISCOUNTED.
SCHOOL HOURS
The school opens at 7:00am and closes at 5:30pm. The day is broken up as follows:
Morning

Half-day

Afternoon

Up to 12:30pm (excluding lunch)

including 10:00am snack (lunch by arrangement)

Up to 2:00pm (includes lunch & rest)

including 10:00am snack

Up to 5:30pm (including lunch and sleep)

including 10:00am snack & 3pm snack
Teaching begins at 8:15am so it is important that the children arrive at school on time, especially the older classes in the school.
UPDATING THE INFORMATION FILES
If your cell number, address, email or any other information has changed PLEASE inform the school, it is very important to keep our records up to date in case of emergencies, to send newsletter and invoices out and generally to keep in touch. If you are having problems with receiving our emails or invoices please also inform the office staff. We also need a copy of your child's updated immunisation Clinic Cards.
ITEMS TO BRING TO SCHOOL
Hat, Sunscreen and Water Bottle
The days are very long and hot so please put sunscreen on your child before school and we will re-apply later on during the day, also please ensure your child brings a hat and water bottle to school. Clearly marked with his/her name.
Face Cloth and Small Towel
As it is the beginning of the year please supply your child with a new face cloth and small towel clearly marked with his/her name.
PLEASE LABEL ALL YOUR CHILD'S BELONGINGS. This makes it so much easier for the teachers to track down belongings when they go missing and also helps alleviate the problem when two children have identical items. Before the teachers/assistances go home in the afternoon the children's bags are packed with all their belongings but sometimes things can get mixed up. What some parents do is that they check their child's bag every day when they collect their child from school. We can then look for the missing item immediately.
FRIDAY TOY DAY
This year we have decided to allow the children to bring a toy to school on a Friday ONLY, as many children try to sneak in their toys on a daily basis. We want to create a child happy environment and also teach a sense of responsibility that they must look after their toy and that only one day a week is permitted to bring a toy. However, please note the teachers will try their best to help the children to look after their toys but the teachers cannot be held responsible if the toys gets broken or lost.
ACTIVITIES PLANNED FOR THE MONTH/YEAR
A monthly newsletter will be sent out at the beginning of each month informing parents of the upcoming events and themes. A calendar will be attached to the newsletter each month to inform and remind parents of any events planned.
MEET AND GREET THE TEACHER
This is an opportunity to meet your child's teacher. The idea is to become familiar with the Class Teacher and to discuss the plans and expectations of your child for the coming year. This will be as a group meeting with all the parents in each particular class. The meeting will start at 6:00pm.
On Monday 30 January Teachers Lorna and Carmen @ 6:00pm
On Tuesday 31 January Teachers Kelly and Mariska @ 6:00pm
On Wednesday 1 February Teacher Lee @ 6:00pm
EXTRA CURRICULAR ACTIVITIES
The extra-curricular demonstrations will be taking place within the next two weeks. All the children will be given an opportunity to partake in an open demonstration classes. If the parents are interested in their child enrolling in an extra-curricular activity please collect an enrolment form from the office.
The extra murals for this year are:
Monday: Soccerise Starz with Kennie
Little Brain's Computers. (Compulsory for the Grade R children) and optional for the younger children.
Clamberclub with Amore
Tuesday: Kidi Talk with Carmen
Creative Drama with Chirene
Karate for kids with Alfredo
Swimming with Aquativity Swim School with Kerry and Louise
Wednesday: Tangonastix with William for all Kyalami Ridge Children (Sponsored by the School)
Thursday: Science Club with Frances (Grade R children only)
Cricket
Friday Into Golf with Eddie
Lucinda's School of Ballet
Rugby
Please refer to the calendar for dates and times of the respective demonstrations. You many receive more information and application forms from the office. Please note that all payments must be paid directly to the extra-curricular companies. Kyalami Ridge is not responsible for their account collections
Thought of the Month
"Children develop according to stages and not ages."
Barbara and Team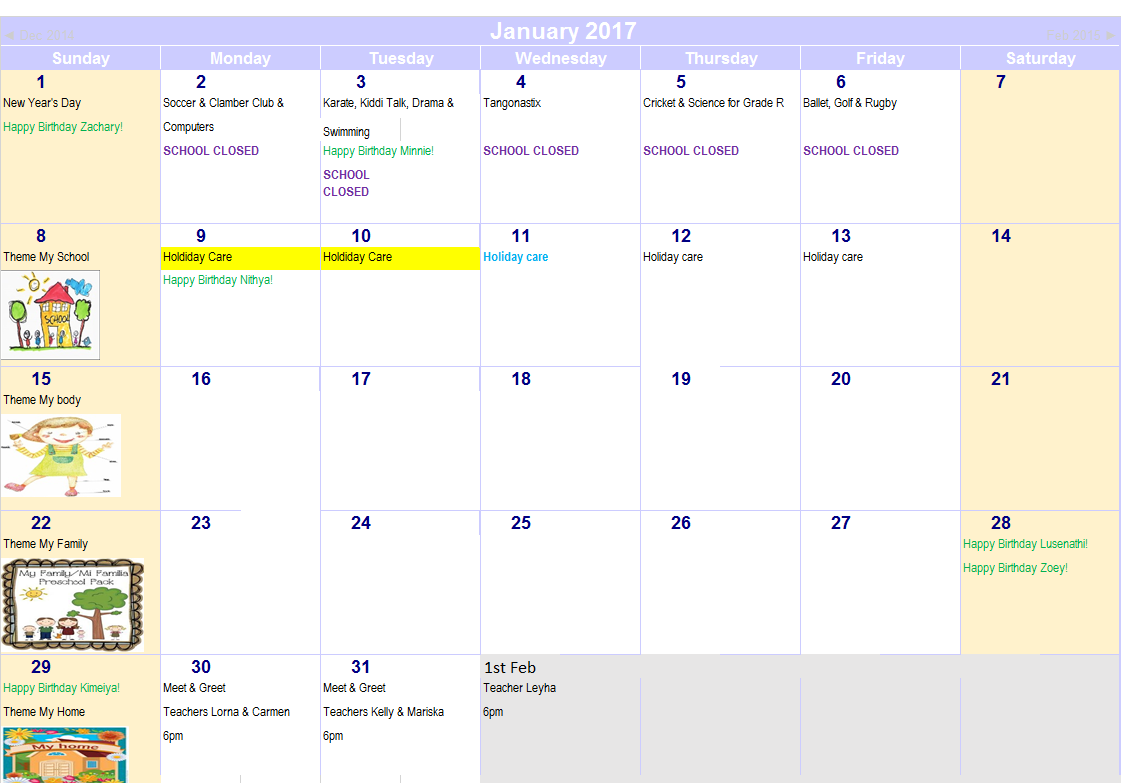 REG. No. 1999/005206/07
KYALAMI RIDGE CRECHE & PRESCHOOL (PTY) LTD
37 KAREE LANE (OFF CEDAR RD), KYALAMI A.H
Tel No: 011 702 3045 Cell: 082 578 8292